To get a harvest a big part of an almond farmer's late winter and early spring is absorbed in ensuring enough pollinators make it into the orchard.
A big part of my late winter and early spring this year was absorbed in reporting on a small, but growing movement to get native bees to help. Out of the field visits and phone calls came my first feature story:
Give Bees a Chance.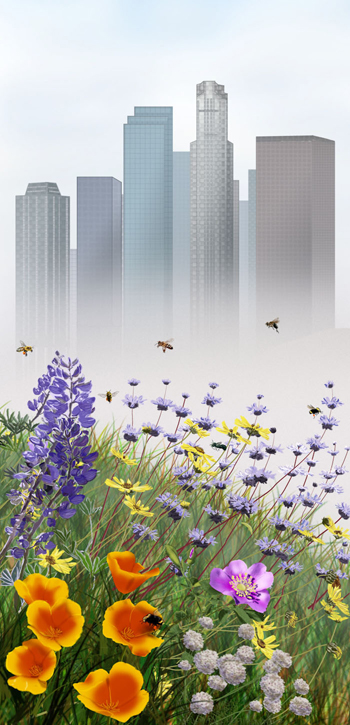 The story recently went live on Science Notes, the hallmark publication of the UC Santa Cruz
Science Communication Program
. The piece is gorgeously illustrated by the hyper-talented Chelsea Crist (image above) and Julie Naylor (right) from the CSU Monterey Bay
Science Illustration Program
.
Wander around, you'll read about the problems facing our honeybees, the wild, glorious diversity of California's native bees, challenges facing farmers like the almond-growing Chris Schlies and the efforts of
Claire Kremen
, a conservation biologist at UC Berkeley, to change the face of large-scale farming. It comes with a
video
and a
podcast
, both narrated by yours truly and featuring buzzing of bees.
As a final bonus, the piece got a
lovely shout-out by Charlie Petit
over at the Knight Science Journalism Tracker.